Posted on December 20, 2022 by childrenslearninginstitute
December 16, 2022 | Inside UTHealth Houston | by Meredith Raine
CLI Co-Directors Recognized for Combination of Endowments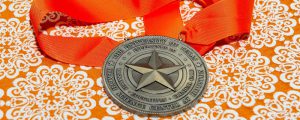 In this season of gratitude and giving, UTHealth Houston celebrated faculty endowment holders and honored the generous benefactors who created those endowments to propel the university's mission forward.
During a luncheon hosted by Giuseppe N. Colasurdo, MD, UTHealth Houston president and Alkek-Williams Distinguished Chair, members of the university's executive leadership welcomed distinguished faculty members who have been appointed to endowed positions between 2019 and 2022.
The luncheon on Thursday, Dec. 8, at the Cooley University Life Center was the first in-person event honoring faculty endowment holders since the beginning of the COVID-19 pandemic.
"Take a look around the room," said Kevin A. Morano, PhD, senior vice president and chief academic officer ad interim. "You all represent the best of the best researchers, educators, and clinicians who have earned the prestigious honor of holding an endowment. We thank you for your amazing contributions to the communities we serve."
"We also want to thank the benefactors who created these endowments," Morano said. "They saw that through their generosity, they could spark progress that saves and improves lives."
Endowments are permanent funds designated for a specific purpose by the donors who create them with gifts to the university. During fiscal year 2022 alone, gifts from donors created 66 new endowed funds for a total of 840 across the university.
"Today, we recognize you – the beneficiaries of this generosity," Morano said. "Your ongoing pursuit of excellence helps train the health professionals of tomorrow, advance research that changes lives for the better, and serve our communities through patient-centered outreach and care."
After lunch, Richard Andrassy, MD, senior vice president for clinical and faculty affairs, presented each faculty member with a medal in recognition of exemplary service.
---
The Children's Learning Institute congratulates our co-directors on receiving a combination of prestigious endowments. We are honored to work for such dedicated and accomplished leaders. Under their direction, we advance learning and health outcomes for all children.
Meg and Dick Weekley Distinguished Chair in Childhood Reading and Learning
Michael Matthew Knight Memorial Professorship in Pediatrics
Albert and Margaret Alkek Distinguished Chair in Early Childhood Development
Harriet and Joe Foster Distinguished Professorship