Posted on September 30, 2021 by childrenslearninginstitute
Changing Early Education in the Classroom from the Ground Up
Opening an early childhood center has long been a desire of our founder, Susan Landry, Ph.D. Since CLI announced our partnership with Victoria ISD to launch and Early Childhood campus, activities progressed quickly over the Spring and Summer of 2021. The Children's Learning Institute Early Childhood Education Center at F.W. Gross officially opened its doors in August, the culmination of the arduous work and dedication of CLI's staff and partners in Victoria. Established within the historic F.W. Gross campus, the CLI EEC at F.W. Gross is the only early childhood campus within Victoria ISD.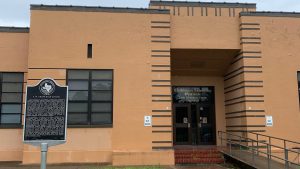 The CLI EEC at F.W. Gross is an opportunity to establish a comprehensive early childhood program that fully embeds best practices for early education and teacher training to yield positive outcomes for young learners, especially what we have learned through our own research implementing high-quality programs like Texas School Ready that positively impact teacher practices for sustained impacts in the classroom.  
Starting shortly after our announcement in February, we began hiring dedicated staff, processing student applications, getting supplies together, and updating the historic campus buildings to welcome students in Fall 2021—all accomplished during the ongoing pandemic. A familiar landmark, the campus was named for Frederick W. Gross, a 19th century education pioneer in Victoria, and CLI is honored to carry forward this legacy through the CLI EEC at F.W. Gross.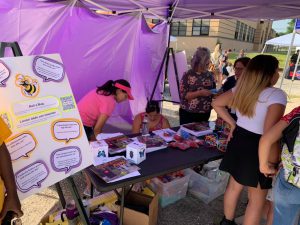 Over the summer, our new campus became a reality as we fostered partnerships with our neighborhood and welcomed local families and community partners to join in opening celebrations. In partnership with the Southside Community Coalition, a local organization that advocates on behalf of our local community, we welcomed over 300 attendees to the Back 2 School Bash, hosted at our campus. In addition to meeting some of the families and children who now attend our school, more than 144 local children received school supplies at no cost. At our booth, we shared fun, home-based activities from our CIRCLE Activity Collection: Family that families can use to support child development at home.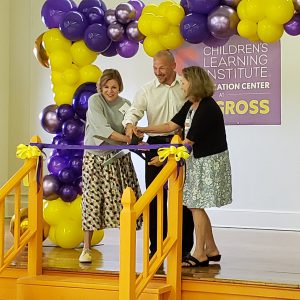 On August 4, we formally opened the CLI EEC at F.W. Gross with a ribbon-cutting ceremony, coinciding with the first official day of teacher professional development. Never letting inclement weather dampen our resolve, we moved our ribbon cutting ceremony indoors to kick off the official opening of the school. Big, brilliant bees atop tall towers of yellow and purple balloons greeted over 50 attendees who enjoyed hearing about the school's reopening and plans. Dr. Susan Landry expressed her excitement that this day had finally come and showed heartfelt appreciation to the new teaching staff for their instrumental role in this new endeavor. The district's superintendent, Quintin Shepherd, addressed the crowd and remarked how moved he was "to be here at this moment on the precipice of something that I know will be revolutionary and transformational." Principal, Laura Prendergast concluded the ceremony with her sincere commitment to the students, staff, and community. 
With all these tasks and events behind us, we were excited for the first day of school. 
The first day of school for little ones is never easy, but our students have shown incredible progress over the past few months. On day one, there were a lot of tears and anxiety in our little ones. For many of them, this was the first time they were leaving their families for an entire school day. But flash forward one month and these same children are happily jumping out of the car and walker areas, running to greet their teachers and classes for the day.  
We have a lot of aspirational hopes and plans for our young learners this year. Students will be in a positive learning environment that is structured for rich, playful, and purposeful activities, hallmarks of CLI's education philosophy. Our expectations are that students show growth both academically and with their social emotional development. This will be achieved through a comprehensive instructional plan, evidence–based professional development for teachers, and a creating a positive school climate. 
Our research-based curricula have been proven to advance child skills. Each grade level will have multiple pieces of CLI-developed curricular materials, coupled with other, research–based programs. Our programs adopted in each grade level include:  
PK 3 & 4

: 

For our youngest grades, we will use the 

CIRCLE Pre-K Curriculum

. 

Featuring daily playful and purposeful experiences across whole group, small group, and center time, this curriculum will support

 

cognitive and social emotional development. 

Developing Talkers

 will also be used as a supplementary asset to support young children's language and literacy skills.

 
Kinder and 1st Grade: For our older grades we will use the 

Reading Rules

!

 curriculum.

 

This comprehensive reading intervention program

 

provides struggling readers with daily direct instruction in phonemic awareness, letter-sound instruction, sound analysis, decoding, word recognition, text reading, fluency, vocabulary, and comprehension.

 

The

 

AERO Program

 will also be used to provide enrichment and intervention in reading. Finally 

Developing Talkers

 will

 

be used as a supplement to the curriculum to support young children's language and literacy skills.
We will also incorporate the Response to Intervention (RTI) Framework that routinely utilizes targeted, data-driven small group and individualized instruction to close achievement gaps. As the year goes on, data will be collected using our platform of progress monitoring tools as well as ongoing observations from teachers and trained support personnel. We will use research-based teaching strategies that are matched to child skill levels, with an emphasis on teacher responsiveness, alignment to state standards in the planning and analyzing of the effectiveness of RTI, teaching practice, and curricula. 
Not only are we focusing on the growth of students, but the growth of our teachers and coaches is at the core of how we plan to be successful.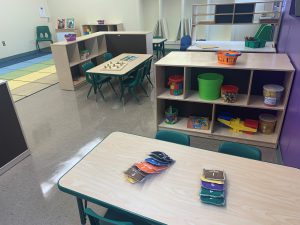 When we hired our educators, we were upfront that they were in for the adventure of a lifetime! Our team will have many opportunities beyond the typical offerings provided at other campuses. While the learning curve will be steep, we know the research–to–practice model will scaffold teachers in a way that yields improved outcomes for our students.  
Our teachers and coaches will engage in year-round targeted professional development beginning with an introduction to CLI's research–based coaching practices through a "Coaching Camp" – a weeklong PD opportunity to develop and refine skills around our reflective practice model. CLI's coaching model was developed and refined through ongoing implementation across the state through several programs, including our Texas School Ready program. Coaches will also have opportunities for continued development through our micro-credentialing program. Micro-credentials are part of an early childhood specialist competency framework that includes competencies that all specialists need to demonstrate to serve the early childhood professionals they support effectively. Teachers will be assigned a coach they will work with regularly to reflect on practices and refine instructional practices, as necessary. They will also engage in targeted PLCs twice a month to explore new practices, reflect on current practices, and explicitly plan for implementation.  
With a solid plan for our teachers and students, we looked out into our community and thought of ways we could connect and support the local community around our school.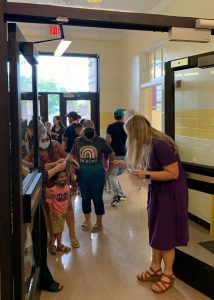 Welcoming our founding families before the first day, we hosted a Sneak-a-Peak so that students and families could meet their teachers in August before the first day of school. After school started, we hosted an Open House so that families could meet the entire staff and hear about the daily routines set up by the teachers. Families receive regular updates from our teachers and the administration about their child's daily progress, campus updates, and so much more.  
To further our reach into our local community and become an asset they can rely on, our new family engagement specialist is building community partnerships along with writing grants to support the campus. As soon as the COVID-19 restrictions are lifted, our outreach program has a big community garden planned on campus.  
Over the next year, we are excited for the opportunity to see several of our programs mesh and see a wide array of improved student and teacher outcomes, as we partner with our local community to become an asset on which they can rely. 
For more updates on CLI EEC at F.W. Gross, follow us on Facebook!