Posted on September 28, 2021 by childrenslearninginstitute
"Students must have initiative; they should not be mere imitators. They must learn to think and act for themselves and be free." – Cesar Chavez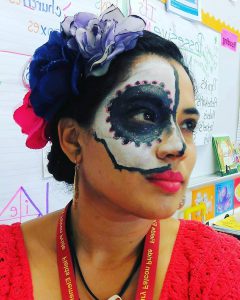 Educational freedom, particularly among women, has come with a price en mi familia. As the granddaughter of a migrant worker who walked with Chavez in California, I feel a special commitment to social justice and ensuring that children, regardless of their country of birth, have an opportunity to thrive in this ever-changing global environment. I learned early on that education is the one thing no one can take from you. It offers you infinite opportunities of the mind and soul.
I want to share with you who I am, where I came from, and how I became an educational advocate and leader through initiative, motivation, and struggle.
My great maternal grandfather, Julio, was the oldest son of Spanish soldier, Jose Maria Chavez Amaro, who arrived in the Texas-Mexico area in the mid-1800's. He fell in love with a Coahuiltecan native woman, married and had several children. The two traveled frequently to North Texas with their children to sell cattle, hay, and other grown goods.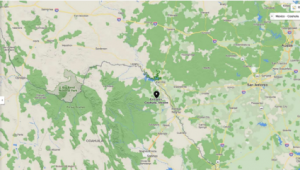 Their eldest son, Julio Chavez Amaro entered the military at the young age of 15 and at the age of 40, he returned to the border and settled just outside Cristales, Coahuila, Mexico. As a rancher, he traveled to and from Mexico frequently to sell his livestock.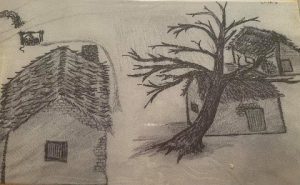 My grandmother, his daughter, Esther Chavez, was born on November 15, 1931, in Odessa, Texas. She dreamed of being a nurse but only managed to attain a third-grade education. She left home at age 13 to work as a housekeeper for the wealthy socialites of Del Rio, Texas. At age 15, she had her first child, Julio Chavez.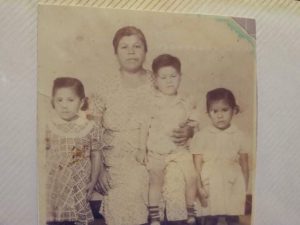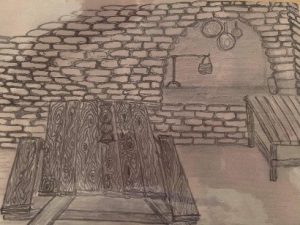 Her parents, Julio and Maria Chavez helped raise her son while she returned to Del Rio to continue her work as a housekeeper in an effort to support her child. She studied at night and learned to read and write English on her own through borrowed materials from the white homeowners she cleaned for. At the age of 19, she married and had 3 more children: Rosa Elena, Raul, and Maria. Her husband, a migrant worker, took the entire family across the United States to work in every field and orchard imaginable.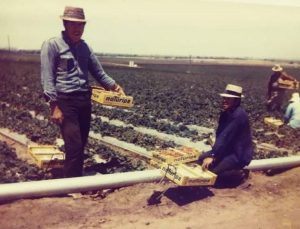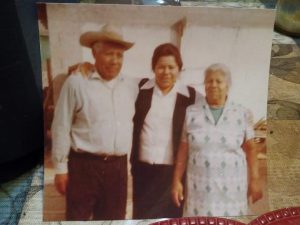 My abuelita Esther and her children learned to pick cotton, tomatoes, zucchini, lettuce, strawberries, potatoes, apples, and oranges in the hottest and coldest of climates. This is where she met many other migrants to include Cesar Chavez. At the time, landowners frequently hired many migrants for the season and a week before it ended, would fire the majority to avoid paying them their wages. Before her passing, my grandmother often recalled her struggles "living in poverty and at the mercy of the different kinds of landowners." This life reinforced her belief in the need for education so she ensured all three of her children went to school and graduated at minimum high school.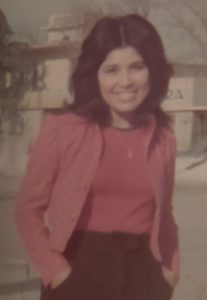 Rosa Elena, my mother, was born on September 23, 1953, in Ozona, Texas. Having occasionally spent time in Cristales with her grandparents and her older brother, she often wished for a more stable and safer environment than the migrant life she lived with her parents. As a child, her dream was to become an Executive Assistant at the White House or for Congress. I've often asked her why she wouldn't have wanted to be a Senator, or the President and her reply is always with a chuckle… "In my time, women could only aspire to be secretaries and the thought of being more was asking for too much."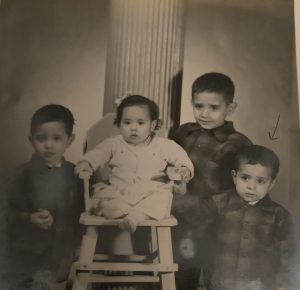 Blas Javier Cárdenas, my father, was the son of a government worker in Ciudad Acuña, Coahuila, Mexico. He was born on August 29, 1952 in Allende, Coahuila, Mexico. Both his parents, Jorge Cárdenas Guevara and Maria Braulia Moreno were born and raised in Allende, Coahuila. They lived in a ranch close to town and raised a variety of livestock.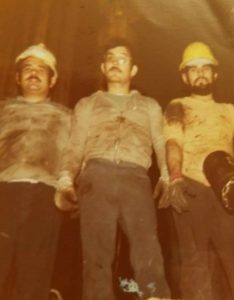 My father dreamed of becoming a doctor but with school and ranch life responsibilities, he was soon discouraged and decided to drop out of school. At age 15, he took a chance and crossed into the United States to find better opportunities after a friend offered him a job in Chicago, IL. He endured many challenges as an illegal immigrant. He often recalls how not speaking English was probably the best thing for him because it motivated him to learn using observation and visual cues. My father frequently talks about discrimination he experienced and how it was not a crutch in his life, but a way to prove "them" wrong.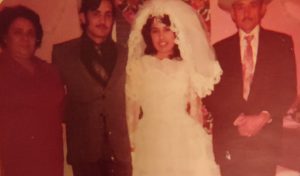 With each job he had, he gave it his best and quickly promoted to supervisory roles despite his broken English. Blas and Rosa married December 30, 1974, had 3 children, Diana Veronica, Doris Maria (me!), and Blas Javier Jr. They divorced on April 1, 1984.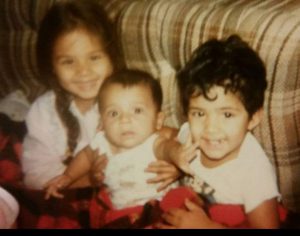 I, Doris Maria Cárdenas, was born on August 15, 1979, in Canadian, Texas, a small town north near the Panhandle. My father was a drilling supervisor for Wes-Tex Oil Company. My mother was a housewife. We moved around Texas and even spent some time in Reydon, Oklahoma due to dad's line of work. Both our parents pushed education for my older sister, Diana and I. We were taught to treat education as a competition, always trying to see who could be the better student. When my parents divorced in 1984, my mother moved us back to her hometown of Del Rio to live with my maternal grandparents.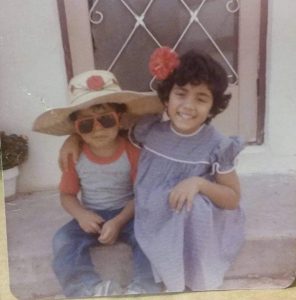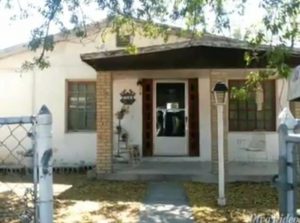 I was almost age 5 when we moved to Del Rio, Texas. Mom left to work as a migrant for a year before she was hired on with Texas Department of Human Service in San Antonio, Texas as a receptionist. We stayed behind and were raised by my grandmother, Esther. Living in Del Rio had its own kind of struggles. We lived in the barrio and lived a very simple life with grandma. Barrio Chihuahua in Del Rio, Texas is a small neighborhood in South Del Rio where most of the poor migrants lived. I found joy running barefoot outside and climbing on trees. School was always stressed in our home and report cards were a big deal. But a life in poverty was never easy and we knew the meaning of money very early on in our lives.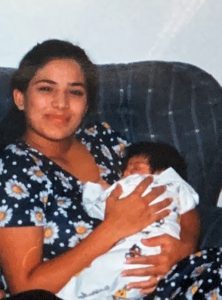 The generational disparity that carried over from years of struggle were a continued influence in my life. Women in my family have always had to compromise their goals to support gender expectations. I married at the young age of 17 and became a teen mother. I quickly realized that motherhood came with its own challenges and that my dreams of becoming a lawyer would need to be placed on hold, indefinitely. When my marriage fell apart at age 23, I was left with two toddler children, no income, and limited options given my level of education (high school diploma). This was my "Crossroads" moment. I could either, do what my ancestors had done and work to the bone making minimal wage or lower, or I could change the trajectory of my life and my daughters' lives by going to college. I worked many difficult jobs and had to rely on my support system, my sister, to help get me through the most trying of times. She was my mentor as I navigated the college path. I must admit that as a single Hispanic mother with two young children, there were many times I wanted to give up. My sister never stopped encouraging me. My children were a constant reminder of why I couldn't and shouldn't give up. Between college loans and restaurant service jobs, housekeeping, and any other job that came my way, I was able to put food on the table and keep a roof over my daughters' heads.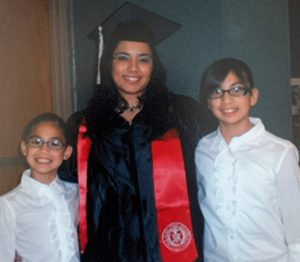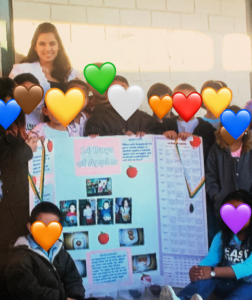 I compromised my dream of becoming a lawyer and instead sought out my second passion, teaching, because it matched closer to the schedule my daughters needed. I was able to connect on a very personal level with teaching because I wanted to help children who came from my similar background. I knew that I could advocate for these children and perhaps positively influence the trajectory of their lives. I knew that in order to properly advocate for them, I would need to become a subject matter expert in those areas that come so problematic for Hispanic and at-risk children. I received my Bachelor of Arts degree in Interdisciplinary Studies. I became certified as a Bilingual, Early Childhood Teacher and experienced my first years as a teacher in Del Rio, Texas. I must admit, the first year of teaching was the hardest. I can recall wanting to run out of the room and never return. I taught my first year and then left on a sabbatical to determine if this was indeed my calling. I tried the corporate world and found myself miserable and missing "the children." I returned to teaching a year later and have now been an educator over 13 years. During this time, I obtained a dual Master of Science in Education with specialization in Reading and Mathematics.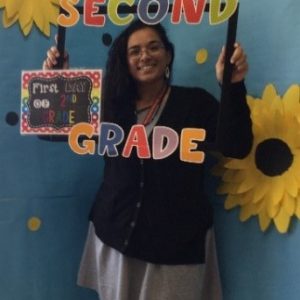 I am a passionate educator, supporter of the Science of Reading, and believer in positive child social-emotional development. After many years in the classroom teaching various grades EC-4, I took a leap of faith and transitioned over to the Children's Learning Institute (CLI) at the University of Texas Health in Houston, Texas. This has allowed me to contribute to positive social change among the vulnerable.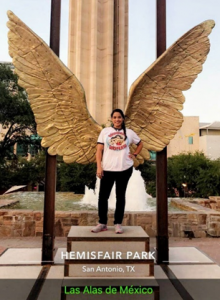 It has also taught my daughters the importance of an education. If I could say anything to my ancestors, it would be that I have helped change our stars as a first-generation college graduate and I hope that generations to come are able to offer growth para nuestra cultura.My employment here has been rewarding and has allowed me to serve beyond the classroom to influence the next generation. To keep my skills as an educator, I volunteer my time after hours to help special needs or at-risk children of all ages with reading, mathematics, and language barriers.
Doris Cárdenas is an Education Advisor for the Children's Learning Institute at UTHealth Houston and a member of the Data Squad. As an early childhood education advisor and mentor, she provides statewide support to Head Starts, Childcares and ISD administrators, specialists, and teachers. She is an experienced bilingual educator and instructional coach for preschool through fifth grade. She holds a B.A and an M.S. in Early Childhood Education with specializations in Reading, Mathematics, and Early Childhood Development.

Doris is a subject matter expert and knowledgeable in the use of CLI Engage. She offers trainings and consultation services to support districts in understanding how to best use their assessment data to evaluate, analyze and plan instruction.